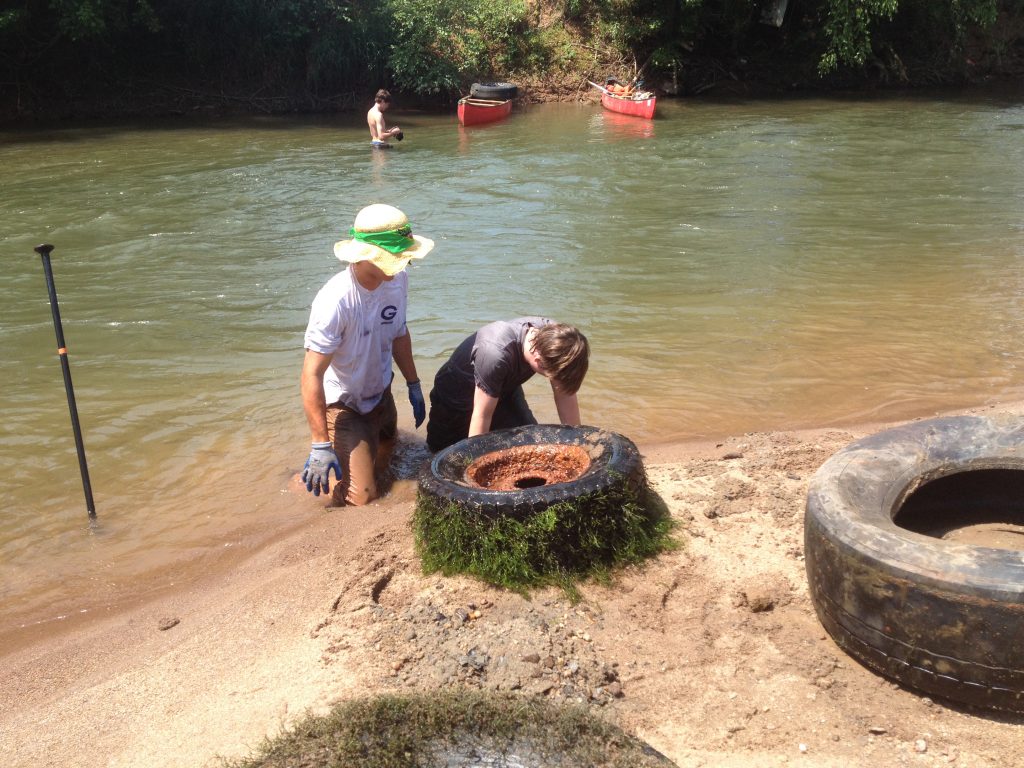 StreamSweepers 2014 was a bodacious concept. Center for Natural Capital Board of Directors felt there was no question that work on the Rapidan River would continue, from Madison Mills downstream, perhaps as far as Lake of the Woods in the eastern part of Orange County. During this discussion, CNC Board Member and StreamSweeper Founder David Perdue advocated for inclusion of the Robinson River, noting it's location close to the CNC office in Orange and his sense that the portion along River Road may have a lot of garbage in it. More discussion with key StreamSweeper Supporters lead to a decision to start at Banco in Madison County and go all the way to confluence with the Rapidan. As for the Rapidan, it was decided to go to Rt. 522 in Culpeper. This would be roughly 40 miles of rivers, doubling last year's mileage. Undertaking something like this would require landowner outreach and project planning that exceeded the Center's offseason resources. Fortunately, some "early adopter" Rapidan and Robinson River landowners and watershed supporters, particularly including Mark Kington and the Dominion Foundation, stepped in with resources to turn the dream into reality.
With use of a new riparian landowner fee, the ball got rolling, with many more riverside landowners agreeing to pay for cleanup and assessment of their frontage. One landowner, Woodberry Forest School, was a game changer for 2014, bringing on their own graduating students as paid Sweepers to handle the Rapidan, providing classroom space for training, along with a shuttle for team pick up and drop off. This effort was spearheaded by two Woodberry staff; Ben Hale with support from Randy Hudgins. The Woodberry Rapidan Team overhauled assessment protocols and developed new methods to render assessment findings for customers and supporters.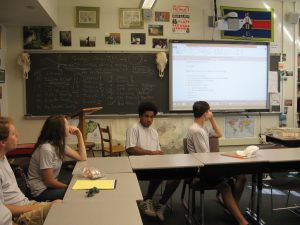 This year's strategy was notable for another new development. Thanks to Friends of the Rappahannock, a 2000 riparian assessment of the entire Rapidan River watershed conducted in cooperation with the Virginia Institute of Marine Science (VIMS), was provided to the Sweepers, in the hope that a way could be found to compare 2014 results with project findings from this earlier study. A method was devised and the findings have been published as a portion of this report.
Also, this year was notable for the Sweepers themselves. Crew size increased from 4 in 2013 to 13 this year. In addition, a new position was created, River Analyst, filled by two Sweepers from 2013. Most of the watershed analyses work was completed by these Analysts.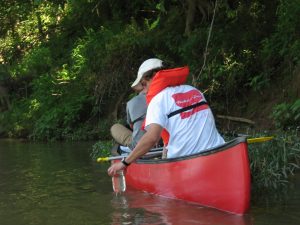 Finally, for the first time, Sweepers completed water quality testing throughout the stretches of both rivers. In Partnership with the National Institute of Health, National Cancer Institute, a sampling protocol was created for screening of endocrine mimicking compounds.
– Michael Collins
StreamSweeper Business Model
StreamSweepers attempts to serve two categories of "Supporters". The first category is riverside supporters, the heart of the business model. The assessment and cleaning is considered a landscaping service to enhance river real estate frontage. The cost of the Sweeping and Assessments is monetized on a unit basis for each side of the river. The unit rate for 2014 was .25 cents per linear foot. The second category is watershed supporters or persons that can live anywhere that care about a particular river ecosystem. This second category is important, because only a portion of riverside landowners pay for the service. StreamSweepers blends revenue from riverside landowners with donations from watershed supporters to cover costs of the service. The long term financial goal is to have 100% of the costs of the service covered by riverside landowners.
About This Report
This report is prepared primarily for participating riverside landowners and watershed supporters. It contains generalized or non-parcel specific information about the 2014 assessment and cleaning of the Rapidan and Robinson river valleys. StreamSweepers collects and stores a large amount of location specific information not published in this report, available to participating riverside landowners and watershed supporters. Water quality data collected for 2014, at the time this report was prepared, was still being analyzed. Once analysis is complete, participating landowners and watershed supporters will be contacted to review findings. Whether some form of the results is published in a future version of this report has yet to be decided by the Center for Natural Capital Board of Directors.
Also please note that the report has been formatted expressly for the web, with chapter set up as pages on this site. The "Table of Contents" is the menu found when clicking on the StreamSweepers 2014 Report Tab, found on the left side or top of the homepage.
Program Deliverables 2014
River Reach Selection
Riverside Landowner Outreach
Sweeper Hiring
Training Curriculum Development
Sweeper Training
Assessment Protocol
Trash Removal Protocol
Methodology to Compare 2014 and 2000 Data
Water Quality Testing Protocol
Water Sample Collection
River Assessment
Comparison River Health 2014 vs. 2000
River Cleaning
Landowner Economic Opportunities to Restore Floodplain
Report Preparation
Publication @ www.streamsweepers.org
StreamSweepers 2014 Celebration at Historic Rapidan Mill
2014 River Segments
StreamSweepers work for the 2014 season once again focused on the Rappahannock River drainage area, or watershed, located in Central Virginia (see image below). A watershed or drainage basin is an area of land where surface water from rain converges to a single point at a lower elevation, usually the exit of the basin, where a river joins another. The Rappahannock watershed spreads across 2,175 square miles and drains all or portions of 18 counties, taking up 6.8 percent of Virginia's total land area. Drainage basins adjacent to the Rappahannock are the Potomac-Shenandoah to the north and the York and James to the south. The origin of the river is located in Shenandoah National Park, at a mountain spring in Rappahannock County, just below Chester Gap. From there it flows southeasterly for 184 miles before opening into the Chesapeake Bay. The river's mouth is more than 3.5 miles wide and is located 60 miles east of Richmond. Major tributaries of the Rappahannock are the Hazel, Thornton, Rapidan, Robinson, and Corotoman rivers, as well as Mountain Run and Cat Point Creek. StreamSweepers 2014 work took place in the upper portion of the basin, within the Rapidan and Robinson River Valleys.
The portion of the Rapidan selected for 2014 work spans from Rt. 15 (Madison Mills to just beyond Rt. 522 (Raccoon Ford) (see image  below), a total of 20 river miles.
The portion selected for the Robinson spans from the village of Banco in Madison County to the river's confluence with the Rapidan west of the Village of Rapidan (see image below – looking to the west), a total of 17 river miles.
To date, 2013 and 2014 StreamSweepers have assessed and cleaned roughly 60 miles of rivers, as shown in the image below (2013 Rapidan strech shown in red, 2014 Rapidan stretch shown in purple, and 2014 Robinson stretch shown in light blue).