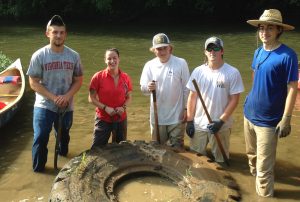 We are looking for young adults, 18 years of age, to provide eco-assessment and stream cleaning services in Culpeper and Fauquier counties on the Rappahannock River during June, July and August.
Employees will receive paid training in eco-assessment protocol, basic field first aid, GPS data entry, mapping skills and business entrepreneurship.
We are looking for prompt and team oriented individuals.  Must have transportation and be comfortable in and around moving water and enjoy outdoor challenges.  Previous canoeing/boating experience preferred.  Must be able to lift 50 pounds daily.
Please send an email to debbie@naturalcapital.us detailing your interest and qualifications to be part of our team.  Salary $10 hour.
Learn more about StreamSweepers at www.streamsweepers.org  or by calling Debbie Manzari, Program Manager, at (540) 672-2542.