StreamSweepers accepts donations of equipment (canoes, trucks, trailers).  Please call us to donate any of the above .  You may make financial contributions below.  Thanks!
StreamSweepers is a program of the The Center for Natural Capital. The Center is a 501 c-3 charitable organization. Funding comes from riverside landowner fees and watershed supporters. 
If you would like to send a donation, please make your check payable to Center for Natural Capital and our address is:
StreamSweepers, A Program of the Center for Natural Capital
P.O. Box 901
Orange, Virginia 22960
The organization's accountant is Carol Atchison, CPA. Virginia State Corporation Commission status is Active. CNC's DUNS # is 802020946.  Our tax id # is: 20-1996189.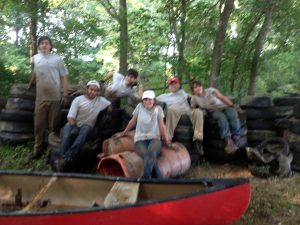 Robinson River StreamSweepers 2014
The Center is in compliance with with the registration requirements of section 57-49 of the Virginia Solicitation of Contribution Law. A financial statement is available upon written request for the Virginia Office of Charitable and Regulatory Programs.